Starter Housing Development

Starter Housing Development is a company set up with interest in promoting ecologically -friendly and sustainable housing construction using nature's abundant resources (earth and clay) for homes and community projects. We manufacture and supply ecologically friendly bricks cheaper than the conventional building blocks. Do you know that you can build your dream house 30- 40 % cheaper? Starter Housing Developement provide you with Eco Friendly Wonder bricks that are less damaging to the environment, easy to lay, and cheaper than the conventional building bricks and blocks also the bricks can be made on site thereby driving down cost by eliminating transportation cost. As part of the Company's commitment in promoting sustainable building, we have decided to be given free training in July and November of each year to those wishing to learn the production and the building techniques. This is a one day training on the making of wonder bricks and pavers. Participants for the free training must be from a disadvantaged community and be willing to train others. Why Build with Wonder Bricks and Pavers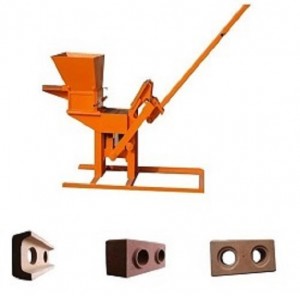 Bricks cheaper to produce as soil is the bulk materials used
Transportation cost minimized as bricks can be produced on site
Unskilled laborers can be used to produce and lay bricks, anyone can make and build with the bricks
Bricks are interlocking, less cement is used
Construction is faster than the conventional bricks laying
Building is fire proof
Eco Bricks stronger than the conventional bricks and block
No damaging of the environment, no emission due to burning of bricks
Mission statement Provide up to date information on sustainable development tailored at addressing the unique needs of our clients Constant researching and promoting word class ecologically -friendly products that comply with regulations To give our customers a unique quality service centered on ecologically friendly products that would be second to none.  Vision To be a unique player in sourcing and promoting Eco Friendly materials and products and also training communities on sustainable development in Africa Objectives
Free Training for 20 youths from 20 disadvantaged communities yearly
Develop 100 Eco Friendly homes annually
Promote sustainable development across disadvantaged communities
 Our services
Sales and supply of Ecological Wonder bricks, pavers and roof tiles
Sales of Ecological Friendly Bricks, pavers and roof tiles making machines
Construction and sales of Ecologically friendly wonder homes
Property Management Services
Training and Consultancy services on Sustainable Development
Products and Price List 
Ecological Wonder Building Bricks
Ecological Wonder Pavers
Ecological Wonder Roof tiles
Wonder Building Bricks Dimension 30cm by 15cm by 7.5cm                       N65.00
Wonder Gutter Brick Dimension 30cm by 15cm by 7.5 cm                           N65.00
Wonder half building Brick 15cm by 15cm by 7.5cm                                     N32.50
Wonder Pavers Dimension 30cm by 15cm by 7.5cm                                   N65.00
5 days training on Bricks and pavers Making                                                 N5,000
Property Management Fees 10% of the rental income
Property Development
Why it is cheaper to build with wonder bricks
– No cement needed to join bricks, they interlock like lego
– It can be set by anyone
– No need of plastering, you get the beauty of bricks for the lifetime of the building
– It can be made on site
– It is environmentally friendly and easy to make
ORDER NOW
Because the bricks are allowed to dry firstly in a cool place followed by exposure to the sun, it takes approximately between 14 to 28 days before they are ready, so if you want to buy our building bricks and pavers but don't have all the money at once, we allow potential customers to place orders as they can afford. All paid for orders must be collected within 90 days of placing the orders.
N:B we do not give credit facilities, we get orders from you with your 70% down payment and the balance to be paid on completion or when you are collecting your bricks.
INTRODUCTORY  OFFER
we give 10% discount on all orders  above N100,000 hurry and grab this offer
Price for the Eco Bricks machine
1. Combo Machine Manually operated ( 2 Bricks per cycle) 30cm by 15cm by 7.5cm N1 Million
2. Single Machine manually operated (1 Brick per cycle) 30cm by 15cm by 7,5cm N750.000
3. Custom Design as seen in our factory in Nigeria N1 Million
N:B All prices includes installations and training
Our Machines are made in China by our partner and 70% deposit is required for all orders with the balance
paid before shipment. For the design, shipment and deliver it will take a period of 60 days.
See the wonders of Eco Bricks
Address
Opertaional Site
11 Abidoye Stree
Aparadija, Aiyetoro
Ogun state
Nigeria
Tel: 090 33202388 / 080 24669971
Email Address: contactus@advertsinnigeria.com
International Office
29 Rathevan Close
Borris Road
Portlaoise
Co. Laois
Republic of Ireland
Tel: +353 86 2938179